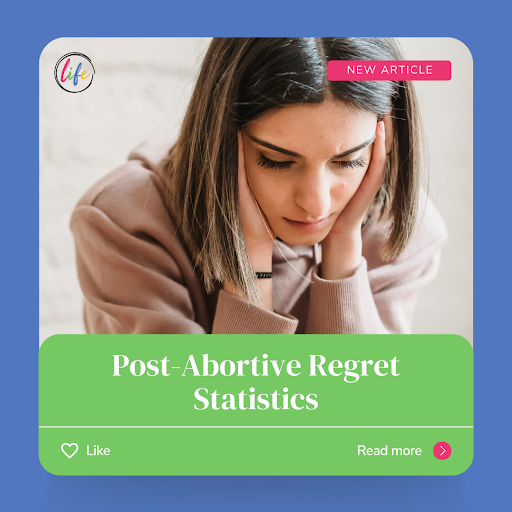 Choice advocates assert that in the event of an unintended pregnancy, abortion is often the "right decision". If abortion is "right", then why do so many women struggle with severe mental health issues and post-abortive regret for years after terminating their pregnancies? Here are a few statistics that point to the despairing reality of so many post-abortive women:
Post-Abortive Outcomes
Abortion is often labeled as an empowering "reproductive right" — a way for women to own their bodies and reproductive health. However, if abortion is so empowering, then why do so many women report feeling coerced into getting an abortion?
In a recent study by the Charlotte Lozier Institute, 60% of post-abortive women reported feeling coerced into terminating their pregnancies and later experienced a decline in their mental health and overall quality of life. These women reported experiencing sadness and grief, intrusive thoughts and flashbacks, high levels of stress when discussing their abortions, interference in their professional and personal lives, etc.
Similar results were reported in, Women Who Suffered Emotionally from Abortion: A Qualitative Synthesis of Their Experiences. The article is published in the Journal of American Physicians and Surgeons Volume 22 Number 4 Winter 2017. 
"58.3% of the women reported aborting to make others happy, 73.8% disagreed that their decision to abort was entirely free from even subtle pressure from others to abort, and 28.4% aborted out of fear of losing their partner if they did not abort."
Britney Spears' recent story of the pressure that she felt to abort is sadly a common experience for many women.
Coercion in the Medical Field
Often, coercion comes from loved ones or medical professionals. Partners, family members, and friends often encourage women to abort due to finances or convenience. But why do doctors and medical professionals encourage abortion when such a small percentage of abortions are actually medically necessary? Let's take a look at the numbers!
The Charlotte Lozier Institute reports that only .2% and 2.5% of abortions are related to life/major bodily function and physical health, respectively. Meanwhile, 95.7% abortions are elective/unspecified.
Under the AMA Medical Code of Ethics, every patient has the right to informed consent. Medical professionals are responsible for ensuring patients understand all their options and the benefits/risks of those options. Informed consent is a huge component of patient advocacy.
Knowing what we know about post-abortive outcomes and patient advocacy laws, is it responsible for a medical professional to encourage abortion when it is not medically necessary?   
What Can We Do to Help?
In abortion, no one wins. Abortion takes the life of an innocent human being, and is shown to have negative impacts on women. So, what can we do to prevent these outcomes? We must bring awareness to the issue, offer loving alternatives to abortion, and provide resources and aid to women and couples.
Prenatal care is available through the Special Supplemental Nutrition Program for Women, Infants, and Children (WIC), Medicaid for Pregnant Women, and many state programs. Maternal leave programs are increasing both in availability and length. Many companies are offering "parental" leave so that the man can share in child-caring duties. Click here for more resources. 
In addition to the government-funded programs, churches and other social service agencies provide assistance. There are now over 3000 crisis pregnancy centers nationwide providing a wide range of pregnancy care and after-birth care. We are a prosperous, compassionate nation. We can provide the support women and babies need. 
Learn more about the various stages of fetal development (conception, first, second, and third trimester) and don't forget to follow us on social media (Facebook, Instagram, and TikTok).